The beautiful city of San Diego, located on the Pacific coast of California, is known for its sunny weather, around 70 miles of gorgeous beaches, and no shortage of fun activities to participate in. Tourists and residents can enjoy the famous
San Diego Zoo
, home to over 12,000 rare and endangered animals within its hundred-acre wildlife park. And if the San Diego Zoo didn't satisfy your adventure-seeking needs, you can head to the
San Diego Safari Park
, which is spread out over 18,000 acres and is one of the largest tourist attractions in San Diego county. Each day holds a new opportunity for its residents to explore the city's most popular sites with several different art museums, galleries, and many idyllic gardens.
But with all these exciting things the area has to discover, San Diego's
cost of living is 44% higher
than the national average. California has a very competitive housing market, and San Diego County real estate is no different. The high quality of life that this state offers comes attached with a price tag, but do not let this deter you from moving to such a gorgeous city just yet. With a little planning and foresight, you can manage the cost of living in San Diego county. Here are three ways to help you save more when preparing to move into this idyllic city.
Rent out your townhome or duplex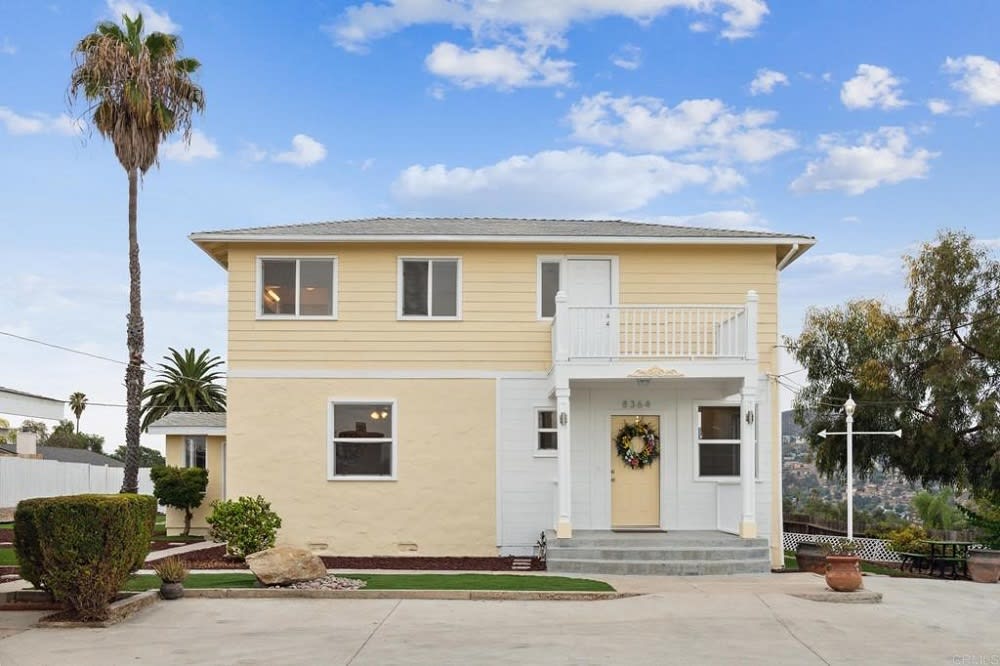 Photo courtesy of The 24K Real Estate Group

When looking at San Diego County real estate, there are many options for your new future home. One fantastic way to manage this city's high cost is to purchase a townhome or duplex and rent out the other floors or the other half of the home. Both townhomes and duplexes offer much more privacy and convenience than simply renting a bedroom in your house. Additionally, you are not surrounded by neighbors like most condos or apartment complexes. Duplexes offer slightly more privacy than a townhome as you are only connected to the other house by one shared wall.
If you are a first-time homeowner, you can
qualify for an FHA loan
(federal housing administration) and put down as little as 3.5%. FHA loans are a great resource to get started on the process of owning your first duplex or townhome. By renting out the additional space, it allows homeowners to utilize that collected rent for their mortgage, and if you're renting out multiple rooms in these spaces, sometimes cover it with cash left over for you.

Eventually, if you find yourself ready to move into a bigger house for just you or your family, you will be able to rent out the portion of the property you were residing in and have a means of passive income as you make your next big purchase. Just remember, before renting out your property, you'll want to check on landlord regulations for your area to be sure all your paperwork is in order.
Renovate your house
If you've purchased your home and want to make some updates, you may find prices are quickly adding up after dealing out your down payment, fees, and closing costs for the property. Depending on what you're looking to renovate in your house, outsourcing the work to a contractor is not always needed. Things like changing the paint on your walls, updating light fixtures, building a new centerpiece of furniture, or even tiny projects like redoing your bathroom, are all remodels that can be completed when you're starting. Being able to work on your dream home yourself is a fantastic way to ensure everything is as precise as you want it.

Take your time when looking at what you want to change, and know that nobody can rush you in this process, and you can always rope in some friends and family to help you in the journey! It is a great way to spend quality time with those you love by working on a common project together, particularly if it's with your spouse.
Eliminate unnecessary spending
Photo courtesy of Pexels
Eating out multiple times every week is something most Americans struggle with when it comes to unnecessary spending. In fact, according to a survey taken in 2019,
only 37% of Americans cook 3-5 times per week
. Essentially, this means that over a third of Americans go out to buy their meals at least once per day, and for some, they eat out multiple times in the same 24-hour period. Not only is cooking your meals at home much healthier for you, but many people may not realize how quickly all that spending can add up. Identify why you're consistently eating out and what your real motivation behind it might be. Is it the ability to spend quality time with friends? A helpful convenience when you are on the run to work? Too tired to be bothered to cook after you arrive home? Taking the time to create a routine that works for you, like getting up earlier to enjoy your coffee at home or meal-prepping, will help to keep you from falling into the trap of eating out as often. Especially when living in an area like San Diego, eliminating excess spending on food will ease the strain on your finances while also giving you a new way to spend time with family and friends— cooking date nights!

Whether you are purchasing your first home or simply looking to begin your new life in the sunny city of San Diego, although the county can be expensive, the quality of life and proximity to beautiful beaches and activities make it well worth it. Renting out a portion of your property to make passive income, working on renovations yourself instead of paying for labor, and eliminating unnecessary costs like consistently eating out are all options to consider when moving to a more costly area.
Living here will be a dream as long as you are aware of your spending habits and follow some of these tips to mitigate any excess costs. Contact local professional
Minne Rzeslawski
for any questions about San Diego county real estate.

*Header photo courtesy of Unsplash